Mod Lites
RCM Racing Equipment is the Ontario Distributor for PRO RACE CARS located in Hanoverton, OH. Pro Race Cars are a top notch chassis builder in the Mod Lite & Dwarf Car business. Pro's record speaks for itself with countless feature wins and championships. After 40 years in business they are still innovators not duplicators with great tech support and local service.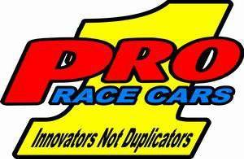 To view Pro Race Cars Products click here or check out the information shown below. If you see a product on the Pro Race Cars website you are interested in ordering and you are within Canada, please email us at RCM Racing with the item name.
** NOTE** ALL PRICES LISTED ON THE PRO WEBSITE ARE IN US FUNDS. The exchange rate will be calculated at time of purchase.